He was positively going now for a "rehearsal" of his project, and at every step his excitement grew more and more violent. With a sinking heart and a nervous tremor, he went up to a huge house which on one side looked on to the canal, and on the other into the street.
This house was let out in tiny tenements and was inhabited by working people of all kinds--tailors, locksmiths, cooks, Germans of sorts, girls picking up a living as best they could, petty clerks, etc.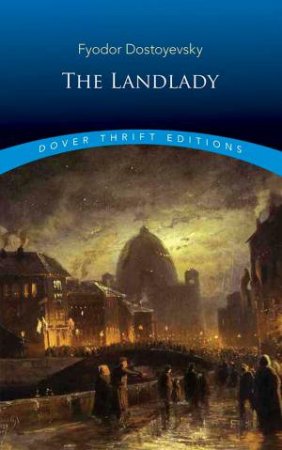 There was a continual coming and going through the two gates and in the two courtyards of the house. Three or four door-keepers were employed on the building. The young man was very glad to meet none of them, and at once slipped unnoticed through the door on the right, and up the staircase. It was a back staircase, dark and narrow, but he was familiar with it already, and knew his way, and he liked all these surroundings: in such darkness even the most inquisitive eyes were not to be dreaded.
There his progress was barred by some porters who were engaged in moving furniture out of a flat. He knew that the flat had been occupied by a German clerk in the civil service, and his family. This German was moving out then, and so the fourth floor on this staircase would be untenanted except by the old woman. The bell gave a faint tinkle as though it were made of tin and not of copper.
The little flats in such houses always have bells that ring like that. He had forgotten the note of that bell, and now its peculiar tinkle seemed to remind him of something and to bring it clearly before him.
Crime and Punishment Part 1, Chapter 1 Summary
He started, his nerves were terribly overstrained by now. In a little while, the door was opened a tiny crack: the old woman eyed her visitor with evident distrust through the crack, and nothing could be seen but her little eyes, glittering in the darkness. But, seeing a number of people on the landing, she grew bolder, and opened the door wide. The young man stepped into the dark entry, which was partitioned off from the tiny kitchen.
The old woman stood facing him in silence and looking inquiringly at him. She was a diminutive, withered up old woman of sixty, with sharp malignant eyes and a sharp little nose. Her colourless, somewhat grizzled hair was thickly smeared with oil, and she wore no kerchief over it. Round her thin long neck, which looked like a hen's leg, was knotted some sort of flannel rag, and, in spite of the heat, there hung flapping on her shoulders, a mangy fur cape, yellow with age. The old woman coughed and groaned at every instant.
Logging out…
The young man must have looked at her with a rather peculiar expression, for a gleam of mistrust came into her eyes again. I am again on the same errand," Raskolnikov continued, a little disconcerted and surprised at the old woman's mistrust. The old woman paused, as though hesitating; then stepped on one side, and pointing to the door of the room, she said, letting her visitor pass in front of her:.
The little room into which the young man walked, with yellow paper on the walls, geraniums and muslin curtains in the windows, was brightly lighted up at that moment by the setting sun. But there was nothing special in the room. The furniture, all very old and of yellow wood, consisted of a sofa with a huge bent wooden back, an oval table in front of the sofa, a dressing-table with a looking-glass fixed on it between the windows, chairs along the walls and two or three half-penny prints in yellow frames, representing German damsels with birds in their hands--that was all.
In the corner a light was burning before a small ikon. Everything was very clean; the floor and the furniture were brightly polished; everything shone. There was not a speck of dust to be seen in the whole flat.
These two rooms made up the whole flat. I gave you two roubles last time for your ring and one could buy it quite new at a jeweler's for a rouble and a half. I shall be getting some money soon. The young man took it, and was so angry that he was on the point of going away; but checked himself at once, remembering that there was nowhere else he could go, and that he had had another object also in coming.
The old woman fumbled in her pocket for her keys, and disappeared behind the curtain into the other room. The young man, left standing alone in the middle of the room, listened inquisitively, thinking. He could hear her unlocking the chest of drawers.
Still not finding what you're looking for?
All in one bunch on a steel ring. And there's one key there, three times as big as all the others, with deep notches; that can't be the key of the chest of drawers. Strong-boxes always have keys like that. But for the two roubles I lent you before, you owe me now twenty copecks on the same reckoning in advance. That makes thirty-five copecks altogether. So I must give you a rouble and fifteen copecks for the watch. Here it is. The young man did not dispute it and took the money.
He looked at the old woman, and was in no hurry to get away, as though there was still something he wanted to say or to do, but he did not himself quite know what. Raskolnikov went out in complete confusion. This confusion became more and more intense. As he went down the stairs, he even stopped short, two or three times, as though suddenly struck by some thought.
When he was in the street he cried out,. No, it's nonsense, it's rubbish! What filthy things my heart is capable of. Yes, filthy above all, disgusting, loathsome, loathsome! But no words, no exclamations, could express his agitation.
Read With Me: Crime and Punishment — A Sneak Preview
The feeling of intense repulsion, which had begun to oppress and torture his heart while he was on his way to the old woman, had by now reached such a pitch and had taken such a definite form that he did not know what to do with himself to escape from his wretchedness. He walked along the pavement like a drunken man, regardless of the passers-by, and jostling against them, and only came to his senses when he was in the next street. Looking round, he noticed that he was standing close to a tavern which was entered by steps leading from the pavement to the basement.
At that instant two drunken men came out at the door, and abusing and supporting one another, they mounted the steps. Without stopping to think, Raskolnikov went down the steps at once. Till that moment he had never been into a tavern, but now he felt giddy and was tormented by a burning thirst. He longed for a drink of cold beer, and attributed his sudden weakness to the want of food.
Crime and Punishment Essay - words | Study Guides and Book Summaries!
Ravens Ladder: A Novel (The Auralia Thread);
Crime and Punishment | Study Guide!
The New Hope Crash.
The Landladys Punishment Book;
He sat down at a sticky little table in a dark and dirty corner; ordered some beer, and eagerly drank off the first glassful. At once he felt easier; and his thoughts became clear. It's simply physical derangement. Just a glass of beer, a piece of dry bread--and in one moment the brain is stronger, the mind is clearer and the will is firm!
Which guides should we add? Request one! Sign In Sign Up. Plot Summary. All Symbols Haymarket Lazarus. LitCharts Teacher Editions. Teach your students to analyze literature like LitCharts does. Detailed explanations, analysis, and citation info for every important quote on LitCharts. The original text plus a side-by-side modern translation of every Shakespeare play.
The Landlady's Punishment Book - Annie Bee • BookLikes (ISBN:BH4KE).
What is Kobo Super Points?.
Post navigation.
Crime and Punishment : Fyodor Dostoyevsky : ;
Coloncho County Crimes.
Fyodor Dostoevsky!
44 Secrets for Passing a Soccer Tryout.

LitCharts From the creators of SparkNotes, something better. Crime and Punishment by Fyodor Dostoevsky. Download this LitChart! Themes All Themes. Symbols All Symbols. Theme Wheel. Themes and Colors Key. LitCharts assigns a color and icon to each theme in Crime and Punishment , which you can use to track the themes throughout the work. Although in a state of near-delirium, Raskolnikov remembers some of what happens next. He senses that numerous people are in the room, and then Nastasya alone.

He awakes around ten a. Raskolnikov asks the man to identify himself and Razumikhin enters, saying he brought Zossimov the doctor to him twice in his sleep.

I just finished "The Landlady" by Fyodor Dostoevsky

Raskolnikov is set to receive a small amount of money from his mother, who has been given it on advance from the man who controls her pension. This advance is granted because Dunya is to be married, and everyone in the provincial town expects that Dunya and Pulcheria will soon come into money. Active Themes. Criminality, Morality, and Guilt.

The agent asks Raskolnikov to sign a receipt for 35 roubles sent by his mother. Raskolnikov initially does not wish to sign but Razumikhin convinces him, and the money is laid out. The agent departs. Razumikhin encourages Raskolnikov to eat soup and asks Nastasya to bring beer and tea. Raskolnikov understands that, if he pretends to be incapacitated, he might be able to better manipulate the actions of Razumikhin and his family.

The Landlady - Roald Dahl

Madness and Intoxication. It is clear that he is willing to use these charms to further his own agenda—in this case, to provide for his friend and insure Raskolnikov can continue to stay in his small apartment.

The Landladys Punishment Book

The Landladys Punishment Book

The Landladys Punishment Book

The Landladys Punishment Book

The Landladys Punishment Book

The Landladys Punishment Book

The Landladys Punishment Book

The Landladys Punishment Book
---
Copyright 2019 - All Right Reserved
---